Congratulations to UBC Sociology Professor Renisa Mawani. Her second book, Across Oceans of Law: The Komagata Maru and Jurisdiction in the Time of Empire, was awarded the 2020 Association for Asian American Studies Book Award for Outstanding Achievem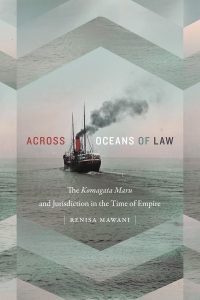 ent in History.
Mawani has been praised for her engaging research documenting the history of British imperial power and colonial law. Her book offers a novel approach to writing colonial history by diving deep into the story of the Komagata Maru. The steamship was carrying 376 Punjab immigrants to Vancouver before being denied entry by the Canadian government and deported back to Calcutta in 1914.
Mawani's book has also been shortlisted by the UK Socio-Legal Studies Association for Socio-Legal History and Theory Prize.
The Association for Asian American Studies (AAAS) is a teaching and research hub that advances the highest professional standards of research in Asian American Studies. The AAAS book awards include prizes for Creative Writing, History, Humanities & Cultural Studies, and Social Sciences.
For more information about Renisa Mawani's research at the University of British Columbia, including past awards, click here.
To learn more about and order Mawani's book, click here.