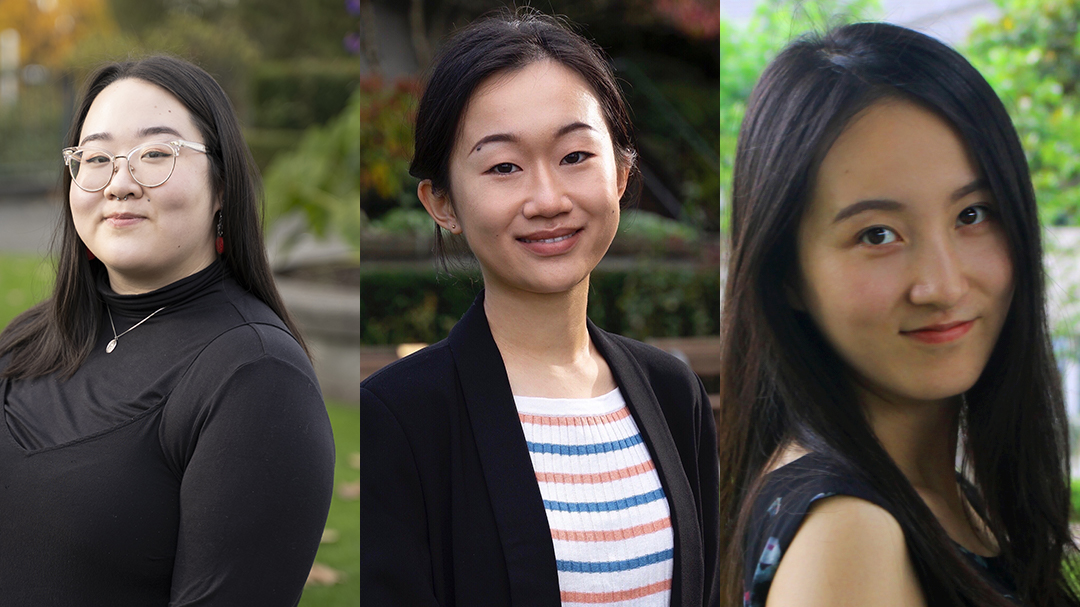 Congratulations to graduate students Caitlin Chong, Sophie Liu, and Yijia Zhang, who have been selected for the 2021/2022 Institute of Asian Research Fellows Program.
The IAR Fellows Program brings together graduate students with interests in issues of relevance to contemporary Asia. IAR Fellows receive benefits that will support their research and scholarly development. Read more about our students' research and accomplishments below.
Caitlin Chong is a first-year MA student at UBC Sociology. Chong's research interests lie within the tensions between the hyphenated "Chinese-Canadian" identity and anti-colonial theory and praxis. Chong's primary affiliation will be with the Center for Chinese Research. She is also working with Dr. Amanda Cheong in conducting community-based participatory research with Chinatown organization "Yarrow Intergenerational Society for Justice". This current project seeks to explore linguistic and cultural barriers that may impede Chinese seniors' access to healthcare.
Sophie Liu is a first-year PhD student at UBC Sociology, and Institute of Asian Research Fellow in the Centre for Southeast Asia Research. Liu is a sociologist of migration, race, and ethnicity, and inter-group relations researching barriers to the integration of visible minorities in the Northern American context. She draws on experimental, ethnographic, and archival methods to explore legal and policy responses to immigration, and attitudes of native-born populations toward immigrants and immigration. Currently, she is working on two projects in Canada: (1) the criminalization of hate-motivated violence; and (2) why hate-motivated violence go under-reported, with a focus on the role of gender in victims' decision-making processes.
Yijia Zhang is a second-year PhD student at the Department of Sociology of the University of British Columbia. Her research examines the intersection of digital media, ethnic community, and platform economy, with a focus on Chinese immigrants and international students in Vancouver, Canada. After obtaining a BA in English from Fudan University, she studied media and communication at Simon Fraser University. Part of her MA thesis on the Chinese-language ride-hailing in Pre-Uber Vancouver is published in WeChat Diaspora: Digital Transnationalism in the Era of China's Rise (forthcoming). Inspired by the sociological debates on the integrative potentials of ethnic enclave economy, her PhD project explores work and entrepreneurial practices around platform-based ethnic businesses in Vancouver.