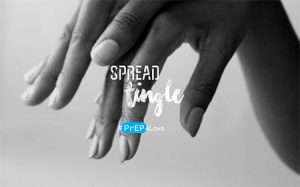 A recent study by the Chicago Center for HIV Elimination at the University of Chicago reveals the PrEP4Love social marketing campaign generated roughly 41 million unique views across various social media platforms within four months of its pilot launch across Chicago.
In 2016, the Chicago PrEP Working Group (now the Illinois PrEP working Group) launched PrEP4Love, a citywide, sex-positive social marketing campaign designed to increase awareness of PrEP, a daily HIV prevention pill that is up to 99% effective when taken consistently and correctly. The campaign featured intimate photos of individuals from Chicago communities that are especially vulnerable to HIV, particularly young, Black, gay and bisexual men and other men who have sex with men, transgender women of color and Black heterosexual women. PrEP4Love displayed ads throughout Chicago on CTA trains and buses in addition to digital campaigns and pop-up events.
According to the study, the PrEP campaign successfully built awareness and was, overall, positively received by the public. This was demonstrated by the reach of nearly 41 million ad views and the high volume of website engagement. The website shows the first wave of marketing had a positive impact on PrEP awareness through the percentage of returning site users and the increasing amount of time users spent on the website.
Moreover, the website page listing health care providers who said they can prescribe PrEP was the most popular link clicked by users – potentially indicating that users were seeking to connect with providers to start taking PrEP. Data reviewed from the PrEPLine – a phone number that connects callers who are interested in PrEP to local resources – further supports evidence that the campaign demand has moved beyond online features to in-person calls made related to PrEP. The data indicates the campaign is reaching young, Black gay and bisexual men and other men who have sex with men based on how PrEPLine callers identified.
"With these astounding numbers—41 million views of the PrEP4Love campaign and nearly 25,000 users clicking on its content—we know the social marketing elements, pop-up events, ads and messaging clearly resonated. I'm grateful for the leadership of Jim Pickett and the Illinois PrEP Working Group on this project. We still have much progress to make, however, and must continue to find innovative ways to increase PrEP awareness and access in the communities most impacted by HIV," said John Peller, AFC President/CEO.
Dr. John Schneider from University of Chicago added, "this paper is the first to describe a sex-positive PrEP public health campaign that is affirming to young, same gender-loving men, transgender women and cisgender women, and is inclusive of their sexual orientation. Overall, the campaign reached millions of individuals, with substantial numbers receiving continuous education through multiple modalities including online, phone and print. More studies are needed to examine this type of campaign in other contexts and to determine how to sustain its impact in the United States and abroad."
The study also concluded that grassroots-organized social movements promoting health equity can successfully side-step the increasing power of commercial and market interests in shaping public health interventions. While the study did acknowledge that the campaign's click-through-rate was below industry standards, the data from the ad views, website and PrEPLine outcomes demonstrated that grassroots campaigns, such as PrEP4Love, can be implemented successfully and reach millions of people to increase awareness for other areas in public health within a short amount of time.
Elijah McKinnon, Creative Director and Founder of People Who Care and PrEP4Love model ambassador added, "the PrEP4Love campaign has proven the value of centering pleasure and intimacy over traditional fear-based tactics that are commonly found in HIV/STI prevention. People of all identities, specifically those prioritized in this social marketing initiative, crave genuine connection and experiences that make them feel good. Hopefully, PrEP4Love can serve as an example for future campaigns aimed at truly engaging communities in authentic conversations around safe and healthy harm-reduction practices, such as PrEP."
The campaign was made possible by pro bono and volunteer services from four creative agencies: Leo Burnett, Starcom, Spark and Razorfish. These sibling agencies provided creative services, media strategy and website development for the campaign under the auspices of Égalité, the LGBTQIA business resource group of Publicis Groupe. The campaign was supported by a generous grant from the Alphawood Foundation and the thoughtful contributions of numerous individuals. Extensive community input, including focus groups, helped shape the campaign.
Read the published article in its entirety here: https://publichealth.jmir.org/2019/2/e12822/. 
This news release was originally published by the Aids Foundation of Chicago.