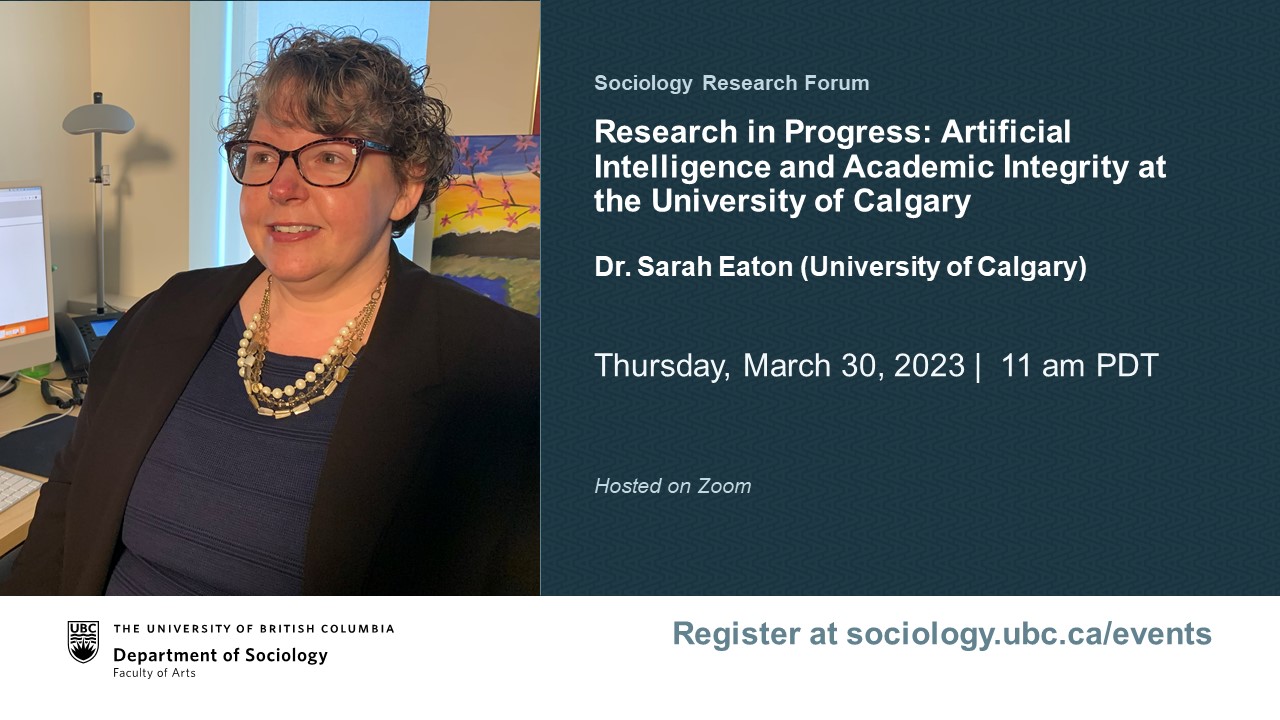 Dr. Sarah Eaton presents her research in progress on artificial intelligence and academic integrity at our Sociology Research Forum.
What are the ethical implications of artificial intelligence technologies for teaching, learning, and assessment? This is the research question guiding our research project at the University of Calgary, Artificial Intelligence and Academic Integrity: The Ethics of Teaching and Learning with Algorithmic Writing Technologies. When we were awarded a Teaching and Learning Grant for our project in March 2022, ChatGPT had not yet even been released. We designed our project around GPT-2 and GPT-3.
In this talk, Dr. Sarah Eaton shares details about this project, as well as insights from working in a field that is developing almost faster than scholars and educators can keep up. This will be an interactive session with lots of time for discussion.
More about Dr. Sarah Eaton
Sarah Elaine Eaton, PhD, is an associate professor at the Werklund School of Education, University of Calgary, Canada. She has received research awards of excellence for her scholarship on academic integrity from the Canadian Society for the Study of Higher Education (CSSHE) (2020) and the European Network for Academic Integrity (ENAI) (2022). Dr. Eaton leads the Academic Integrity and Artificial Intelligence research project at the University of Calgary.
Dr. Eaton has written and presented extensively on ethics and integrity in higher education and is regularly invited as a media guest to talk about academic and research misconduct. Dr. Eaton is the editor-in-chief of the esteemed International Journal for Educational Integrity. Her books include Plagiarism in Higher Education: Tackling Tough Topics in Academic Integrity, Academic Integrity in Canada: An Enduring and Essential Challenge (Eaton & Christensen Hughes, eds.), Contract Cheating in Higher Education: Global Perspectives on Theory, Practice, and Policy (Eaton, Curtis, Stoesz, Clare, Rundle, & Seeland, eds.), Ethics and Integrity in Teacher Education (Eaton & Khan, eds.), and Fake Degrees and Fraudulent Credentials in Higher Education (Eaton & Carmichael, eds.).