Following the successful establishment of the Violence & Society Research Cluster, its members established a student paper award to recognize burgeoning Violence & Society researchers who are enrolled in post-secondary institutions in Canada. This award is designed to be inclusive of a diverse array of potential topics connected to the sociological examination of violence in society. Some of the substantive criteria that will be used to judge entries in the Master's and PhD category are:
It makes a new contribution to the empirical evidence about the causes of, or societal
responses to, violence
It represents a development in the theoretical understanding of violence
It demonstrates clear quality of research, writing and argument development
It broadens or reconsiders what we mean by violence
Lily Ivanova, PhD. Student at the University of British Columbia – Department of Sociology, has received this year's Best Student Paper, organized by the Violence & Society Research Cluster of the Canadian Sociological Association, for her paper, Teaching Empathy, Teaching Politics: The Cultural Limitations of 'Never Again' in Canadian Education about Genocide.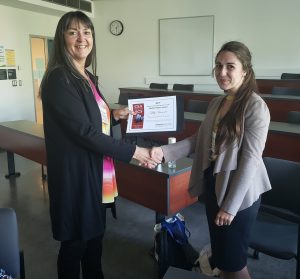 Myrna Dawson presents Lily Ivanova with her award at the Canadian Sociological Association Conference at Congress, June 2019.
Information about the Violence & Society Research Cluster Student Paper Award was found from their website.