UBC Sociology would like to congratulate four of our MA students whose projects were awarded SSHRC funding for September 2021.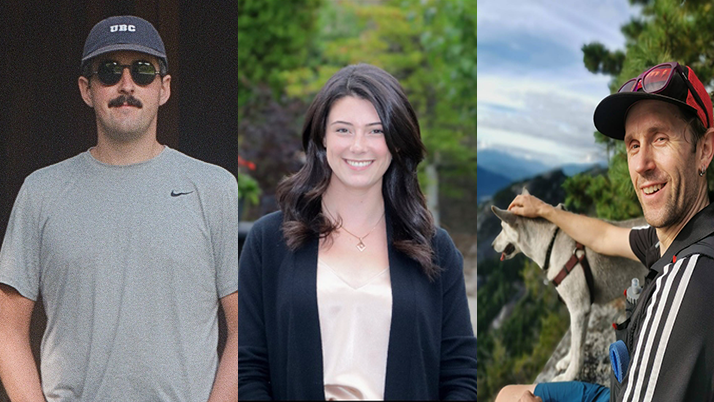 Carly Hamdon is a first-year Master's student in the Department of Sociology.  She completed her Bachelor of Arts in Sociology at the University of Alberta and wrote her undergraduate thesis on environmental ethics. This early research informed both her volunteer work with local food systems and her current research here in Vancouver. 
Hamdon's research question asks how do people in food-based organizations understand Food Justice in Vancouver, BC? By exploring how social justice and environmental sustainability concerns are balanced, this research will help elucidate the situated nature of Food Justice activism. Additionally, her research will analyze the tensions between competing theoretical frameworks such as Food Justice, Sovereignty, and Security to paint a more thorough picture of the food-based activism in Vancouver. 
Dan Prisk is a UK-born settler now living and working on Sḵwx̱wú7mesh land. After nearly a decade in the software industry, he returned to his academic career in 2017 and completed his undergraduate training at Simon Fraser University, where he received his B.A. (Honours) in Sociology. He is currently a first-year sociology M.A. student at the University of British Columbia where he works under the supervision of Dr. Emily Kennedy.
His research questions the individual and structural factors that contribute to environmental care, how those differing contexts interact with social movements, and the impact they have on social and environmental justice in the future that we build. Similar questions motivate his interest in a resurgent far-right: asking if and how this current resurgence differs from prior movements, and what factors of our social structures have given space for their rise.
In this study, Prisk will draw on Black feminist and decolonial theory to ask how ideas of the environment circulate and interact with white supremacist politics on the far right. Answering this question can help counter such movements in the future. More widely, it can contribute to a stronger understanding of the danger for environmental ideals to be co-opted towards nationalist and divisive politics.
Motivated by a desire to understand how we might achieve an equitable and habitable future, Parker Muzzerall's research agenda critically examines the cultural, political, and geographic processes that shape social responses to climate change, and how those responses intersect with political action and polarization.
In order to adequately confront the climate crises, we need to stop burning fossil fuels. However, given the fundamental role fossil fuels play in the constitution of modern life, decarbonization has become a highly contested, politicized, and polarizing project. In the Canadian province of Alberta, where the fossil fuel industry is woven into the cultural and political fabric of the region, efforts to decarbonize are often met with significant opposition. This opposition stands as a fundamental barrier to progressive climate action in Canada. One potential antidote to this lies in the concept of a just transition, which seeks to ensure oil and gas workers are supported in the transition to a renewable energy economy. However, little is known about how those working in the Albertan oil and gas sector feel about a just transition or developments in renewable energy more broadly. This project seeks to address this gap by asking to what extent do oil and gas workers in Alberta consider a just transition to be a culturally relevant, feasible, and necessary solution to climate change? Through interviews with oil and gas workers in Alberta, Muzzerall hopes to unpack how local cultural politics in Alberta condition the potential for a successful just transition in the region.
Tristan Nkoghe is a MA student at UBC Sociology. They completed their BA at the University of New Brunswick with a Joint Honours in Sociology and Philosophy. Their SSHRC Proposal is titled, "The 'True' in Fiction: Authenticity in Contemporary Fiction Writers."
This research will look at and interview ten writers from the publishing house Mémoire d'encrier. The publishing house is of particular interest as they have a wide variety of writers from all around the globe—specifically from Québec, the African diaspora, Haiti, and Indigenous peoples—and also prides itself with its uniting desideratum: authentic voices. Thus, there is already an explicit consciousness of the navigation of the self within these writers; which makes them ideal candidates.